Kutchi Dates, popularly known as "Kharek"
Dates are grown in desert areas and require hot temperature with limited humidity to grow.
Panchani Farm is also engaged in cultivation of Israel Dates ( Kharek ). We mostly produce"Barhi" variety of Dates. At Present, we have around 1000 Israel Dates ( Kharek ) Palm planted in our farm in total area of 20 acres of land.
Harvesting is done when fruit turns yellow. The harvesting season of "Barhi" variety which is grown in our farm starts at the end of June.
Characteristics :
| | |
| --- | --- |
| Size | Medium |
| Shape | Broadly Ovate to somewhat Rounded |
| Colour | Yellow |
| Flavour | Rich and Delicate with a low total soluble solid |
| Taste | Uniformly Sweet |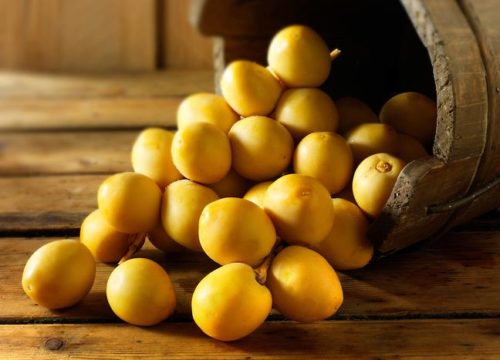 Usage :
Apart from being eaten as a fruit, Kharek can be used to produce Syrup, Alcohol and Vinegar.
A drink is made from its sap.
Availability :
Begins from July and lasts till end of August.
Packaging :
1 Kg, 5 Kg and 10 Kg Box Packing